The Red Buck Sub-District Klondike Derby/Cub-O-Ree was again held at the Grand Island Trailhead, just north of Rapid River. More than 130 Scouts and Webelos accompanied by their adult leaders took part in the annual outdoor fun.
The theme for this year's Derby was "Klondike" where Boy Scouts and Webelos were challenged with events brought back from historic times in the Yukon.
The entry fee to participate in the Derby/Cub-O-Ree was $5 per scout, plus two cans of soup.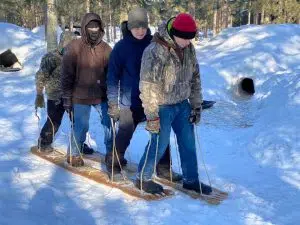 A can of soup is for the "Great" pot for lunch which will be prepared and served by the Order of the Axe. The second can of soup will go in the cooler to be donated to the Salvation Army Pantry. The Red Buck Scouts have been donating canned goods to the local food pantry for about 10 years. The Order of the Ax usually cooks around 15 gallons of soup, 144 hot dogs, and 2 gallons of hot chocolate on the spot for the boys and leaders in the cold.
The first activity the Scouts encountered was the official sled check, which was handled by Assistant Scout Leader Pete Dzanbozoff of Troop 466. To help the boys with the challenges they faced throughout the day , the scouts were given a detailed list of the required sledding equipment to be carried.
Each sled was then checked for completeness and scored accordingly.
After the sled check, the scouts held other events to challenge them further, including; Snowshoe Obstacle Event, Fire Building, Wolf Attack-First Aid, Knots and Lashings, Shelter Building and Big Foot Team Skis.
The Lumberjack Patrol of the T-400 Manistique came in first, the Cowboy Dragons of the T-408 Escanaba second, and the Rising Phoenix Patrol of the T-410 Escanaba (female unit) third.
The Cubs also held events with the Scouts. The first place winners of the Cub events were; Giant Jenga Pack 411, Maze race Pack 445, Pipeline Pack 408, Atomic Drop Pack 402, Snow Snakes Pack 411, Snowshoe Race Pack 411, Snow (Buddy) Skis Pack 471.
After the events, the highlight of the day was the sled race, where the scouts are the 'dogs' pulling the sled, which proved challenging in the deep snow!
The T-411 Escanaba's Blackhawk Patrol won first place in the Klondike Sled Race; the Webelos of P-402 mistook Premier for the Webelos.