By Brandi Makuski
Football season is right around the corner and a popular youth football organization has announced big changes in preparation.
Youth Area Football board members met last week to consider the final design of a new logo and mascot, expansion of competitive play and an updated name.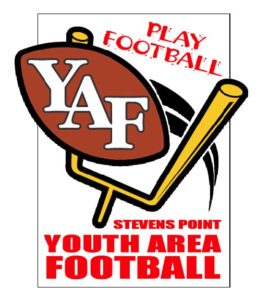 The organization is now known as Stevens Point Youth Area Football—Home of the Mashers.
"Our logo was, essentially, a football, so there was no real league-associated identity that you would see on sports gear or uniforms," said league vice-president Joe Brandt. . "When we looked at the potential for rebranding, we looked at different ideas that would connect with the community. And potato farmers are a big part of our community, so we created the "Mashers".
Brandt said the name is a nod to the Wisconsin Potato & Vegetable Growers Association sponsors.
The league will continue to offer 3/4 and 5/6 teams. Brandt said younger teams play flag football with pads and helmets, giving kids a chance to learn the mechanics of the game safely while getting used to the feel of wearing the gear. 3/4 teams will continue to play intra-squad matches, but the league has expanded to include teams from other communities.
"Amherst and Weyauwega/Fremont are joining 3/4 teams this year, so the kids will have a bit more experience playing against each other," Brandt said.
For players on 5/6 teams, who play football with full pads and helmets, the league has added traveling teams to enable "more competitive play," Brandt said, as they enter into a partnership with the Central Wisconsin Football League.
"This will allow us to have traveling teams in the league and play competitions in surrounding communities. We will be able to play football at 11 instead of 8, which will also contribute to the development of our players," he said.
Jim Ford is board treasurer and one of the four "founding fathers" who started YAF in 1993. He said the upgrades were a welcome change as the organization seeks greater community involvement in the league.
"It doesn't always have to be the way it was," Ford said. "I know I'm an elder, but I want as many young men and women as possible to participate. The board should always have this goal in mind, to have as many boys and girls as possible playing tackle football.
Ford said he coached two young women during his time at YAF and hopes to see more join in the future. And he doesn't want cash-strapped families missing out.
"If anyone in the community needs it, we'll find a way to help pay for that player," Ford said. "We will never, ever, ever turn down a player because everyone deserves the opportunity to participate."
The fee for 3/4 players is $100 and $130 for every 5/6 players. The fee covers all of a player's equipment, excluding shoes.
The Mashers also offer sponsorship opportunities on its gear trailer and for team jerseys. He is also looking for coaches and referees from local high and high schools. Training is provided, Brandt said.
"We really want to try to get more community involvement. It's truly been a year of opportunity for the organization," Brandt said.
Registration will open soon, Brandt said. The organization will post the details on its Facebook page on June 15.